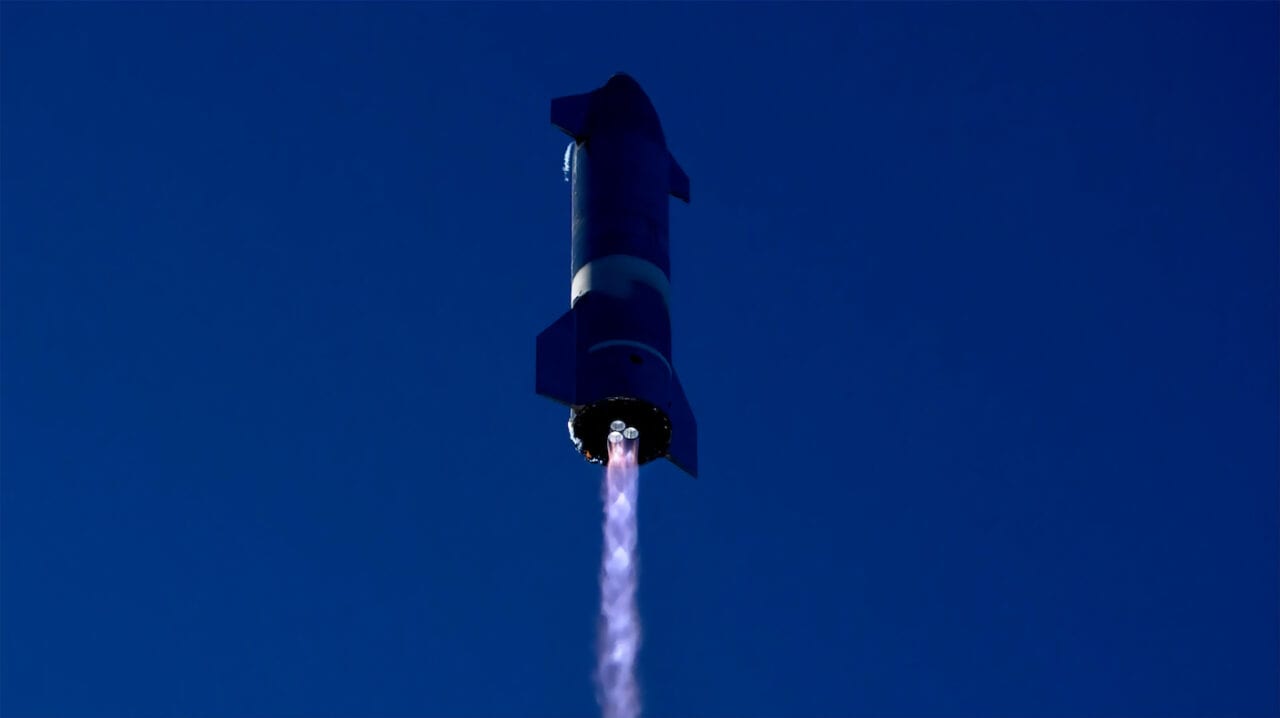 Read more at www.aviationtoday.com
Check out the Dec. 13 edition of What's Trending in Aerospace, where editors and contributors for Avionics International bring you some of the latest headlines happening across the global aerospace industry.
Space
'Mars, Here We Come!' says Elon Musk After Starship High Altitude Test Ends with a Bang
On Wednesday Dec. 9, SpaceX executed its most extensive test of its Starship rocket to date, demonstrating a landing flip maneuver before the rocket returned to the launch pad in a fiery crash.
During the high altitude test, the Starship prototype (SN8) took off from SpaceX's launch pad in Cameron County, Texas at 5:45 p.m. ET. SpaceX reported that SN8 successfully ascended, transitioned propellant, and performed its landing flip maneuver, demonstrating flap control to reach the landing point. The test took place after a scrub on Tuesday.
The test was streamed live on YouTube, showing the rocket flip onto its side at about 4:40 after liftoff, while the flaps adjusted. The rocket then reoriented itself about 6:30 into the mission before crashing back onto the launch pad ten seconds later.
According to NASASpaceFlight, the goal was for the rocket to reach 12.5 km in altitude after originally targeting 20 km and then reducing it to 15 km. SpaceX has not confirmed what altitude SN8 reached. Previous Starship tests have been hops of 150 m or less.
Read the full story in Via Satellite, a sister publication to Avionics International.
Commercial
JetBlue's A220 Takes Its First Flight
JetBlue Airways completed its first test flight of Airbus' A220-300 at the Mobile Aeroplex at Brookley, Airbus announced in a Dec. 9 press release. The airline's first A220 aircraft debuted this fall featuring a brand new tail fin livery called "Hops" designed by JetBlue.
The aircraft will be outfitted with a single-class cabin configuration and carry passengers on many short trips together as part of a larger journey, commonly referred to as "hopping," according to JetBlue.
JetBlue has ordered a total of 70 Airbus A220s that will be delivered to their New York hub before the end of the year, according to the release. The A220 is advantageous because of the flexibility offered by its range and seating capacity.
The A220 has a 50 percent reduced noise footprint and burns 25 percent less fuel burn per seat making it the quietest and cleanest aircraft in its category, according to the release. It also has 50 percent lower NOx emissions than industry standards.
ATM Modernization
NASA Publishes RFI for UAS Cargo Operations
The National Aeronautics and Space Administration's (NASA) Air Traffic Management – eXploration (ATM-X) is requesting information for the integration of large unmanned aircraft systems (UAS) for cargo operations, according to a new contracting opportunity. The request for information (RFI) states a need for a comprehensive concept of operations for UAS cargo operations.
NASA ATM-X wants to have a complete system to demonstrate for cargo UAS in 2025, according to the RFI. The RFI looks to learn about industry investment, understand the challenges, and help determine a partnership strategy with the industry for cargo UAS.
Through the RFI, NASA wants to determine how to efficiently partner with the industry and obtain information about the current technological capabilities of cargo UAS. They would also want to know fiscal rough orders of magnitude (ROM) and if the industry can meet its timeline for research and development.
Military
Lockheed Martin to Join Mitsubishi for Development of New Japanese Fighter Plane
Lockheed Martin is working with Mitsubishi Heavy Industries (MHI) to develop a new fighter plane for the Japanese Air Force which will replace Japan's F-2 fleet, Reuters reported on Dec. 11. MHI was awarded the primary contractor for the new aircraft by Japan's Ministry of Defense in October.
The new fighter jet is expected to be released in the 2030s and is projected to cost around $40 billion.
Lockheed Martin had also worked with MHI to develop the F-2.
3 Companies Awarded Skyborg Prototype Contracts
The Boeing Co., General Atomics Aeronautical Systems Inc., and Kratos Unmanned aerial Systems Inc received contracts from the Air Force Life Cycle Management Center for missionized unmanned aerial vehicle (UAV) prototypes for the Skyborg Vanguard program, the Air Force announced on Dec. 10. By May 2021, the prototypes will be delivered to the Air Force for initial flight testing with the intention of experiments beginning in July 2021.
The Skyborg Vanguard program aims to integrate autonomous UAVs with open systems that can fly in teaming missions with manned aircraft, according to the release.
"This award is a major step forward for our game-changing Skyborg capability — this award supporting our operational experimentation is truly where concepts become realities. We will experiment to prove out this technology and to do that we will aggressively test and fly to get this capability into the hands of our warfighters," Brig. Gen. Dale White, Program Executive Officer for Fighters and Advanced Aircraft, said in a press statement.
The contract amounts varied with Boeing receiving $25,784,180, General Atomics receiving $14,317,933, and Kratos receiving $37,771,577.
B-1B Gets Closer to Carrying Hypersonic Weapons
The B-1B Lancer completed a test flight at Holloman Air Force Base on Dec. 4 where it conducted an external weapon release demonstration launching an inert Joint Air-to-Surface Standoff Missile from an external pylon underneath the fuselage, according to a Dec. 9 press release published by the U.S. Air Force.
"The Air Force Test Center is enthusiastically teaming with the Air Force Global Strike Command to enable greater flexibility in bomber payloads," Maj. Gen. Christopher Azzano, Air Force Test Center commander, said in a press statement. "Demonstration of B-1B external carriage reflects the potential to keep weapon systems in the fight with increased combat capability."
The internal bomb bay was initially modified in 2019 with "box drop" ground tests occurring in October of this year, according to the release. In November the B-1B conducted a captive carry flight.
"AFTC has a long history of certifying external carriage weapons. While this type of testing is far from routine, our testers are the best in the world at managing operational and technical risk to deliver increased combat capability," Azzano said. "I'm confident our multi-discipline teams will meet the requirements for future stores—including hypersonic weapons—while increasing operational flexibility of the bomber fleet."
MQ-25 Completes Test Flight with Aerial Refueling Store
Boeing and the U.S. Navy completed a 2.5-hour test flight of the MQ-25T1 with the Cobham aerial refueling store (ARS) taking the next step towards the development of an unmanned aerial refueler, Boeing announced in a Dec. 9 press release.
The ARS was mounted under the wing to test the aircraft's aerodynamics, according to the release. The ARS used during the test flight is also used on the F/A-18.
"Having a test asset flying with an ARS gets us one big step closer in our evaluation of how MQ-25 will fulfill its primary mission in the fleet – aerial refueling," said Capt. Chad Reed, the U.S. Navy's Unmanned Carrier Aviation program manager. "T1 will continue to yield valuable early insights as we begin flying with F/A-18s and conduct deck handling testing aboard a carrier."
Air Taxi
Lilium Partners with Lufthansa Aviation Training to Select and Train pilots for Lilium Jet
Lilium, the Munich-based aviation company developing an all-electric, vertical take-off and landing aircraft (eVTOL) for regional air mobility, announced today an industry-first partnership with Lufthansa Aviation Training (LAT, member of the Lufthansa Group). Together, Lilium and Lufthansa Aviation Training will develop a tailor made Pilot Sourcing and Training program to qualify pilots to fly the Lilium Jet.
The first phase of this innovative program consists of bespoke Lilium type rating training certification for qualified commercial pilots. It will harness technologies including Mixed and Virtual Reality (MR/VR) opening possibilities to recreate the program worldwide and enabling a stable pipeline of qualified pilots to support the growth of the company and the industry.
"Opening a new professional segment for pilots of the future is a challenge we have long been excited to undertake and Lufthansa Aviation Training is the perfect partner. Their insights, experience and dedication to forward-thinking training concepts ensure that our pilots will be selected and trained to the highest calibre, an industry standard which we will establish through this partnership," Remo Gerber, Chief Operating Officer, Lilium said, commenting on the new partnership.
Urban Air Mobility ATM Startup Gets 2.9 Million Euro Investment
D3 Technologies, Munich-based urban air mobility (UAM) startup creating an integrated traffic management system, received 2.9 million euros in investments completing its Seed II funding round and allowing it to build its first pilot application in 2021, the company announced on Dec. 9.
D3 Technologies integrated traffic management system will assist in integrating air taxis into the national airspace as the UAM market grows. The ground station, communications solution, and onboard blue box will be installed into test regions in 2022, according to the release.
"For urban air traffic to be able to carry passengers, a paradigm shift in air traffic management is needed," Corvin Huber, D3 Technologies CEO, said in a press statement. "With D3 Technologies, we are developing a rule-based method for handling man-carrying urban traffic, suggesting a system architecture that follows the required rules, and making a suggestion for means of compliance. In 2021, with the help of our partners, we will lay the foundation for air taxis to take off."
Companies who invested in the Seed II funding stage include Vector Venture Capital GmbH, the lead investor, SEK Ventures GmbH, EIT KIC Urban Mobility, and Mutschler Ventures AG, according to the release.
"We share the belief of the D3 aviation engineers: In 10 to 15 years, there will be so much traffic over urban areas that solutions as defined today will not be sufficient," Uwe Gerlinger, Managing Director of Vector Venture Capital GmbH, said in a press statement. "We believe that a highly automated traffic management system is necessary to enable aircraft of the future to share a rather small and crowded airspace. We are investing in D3 because the start-up sees the bigger picture."