Tokyo Paralympics live updates: Australia locked in tight battle against France in must-win match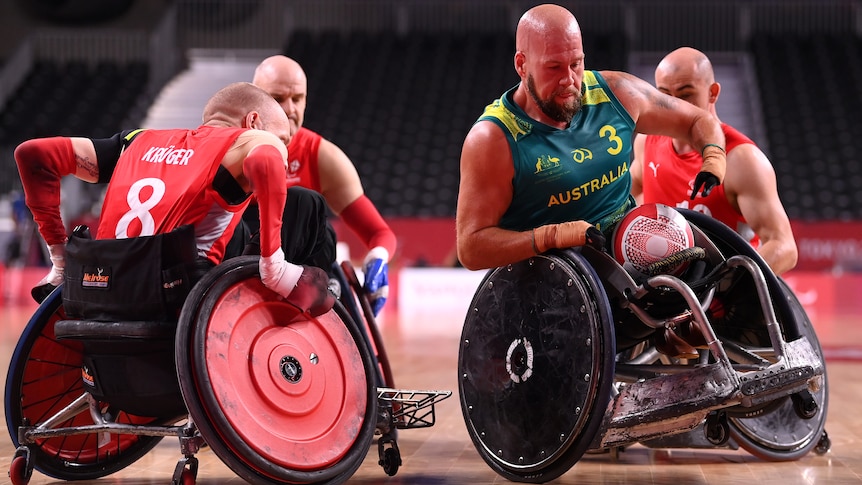 Australia is in a must-win wheelchair rugby match, playing a determined French side desperately trying to keep their semi-finals hopes alive.  
Check out our dedicated Paralympics page to stay across more key moments.
For information on classifications, check out our sport-by-sport guide.
Follow all the action in our live blog.
Live updates
Aussies in action today
All times AEST
Swimming: Finals this evening.

7:44pm: 🏅 Women's 100m breaststroke – SB9 Final: Keira Stephens
8:12pm: 🏅Women's 100m backstroke – S13 Final: Katja Dedekind
8:33pm: 🏅 Men's 100m breaststroke – SB8 Final: Tim Disken 

Table Tennis: Loads happening at the Tokyo Metropolian Gymnasium today.

5:00pm: Joel Couglan vs Alabi Olufemi
5:40pm: Qian Yang vs Tien Shiau Wen
6:20pm: Melissa Tapper vs Bruna Costa Alexandre
7:00pm: Jake Ballestrino vs Masachika Inoue
7:40pm: Ma Lin vs Chee Chaoming
9:00pm Rebecca Anne Julian vs Hanaa Ahmed Hammad
9:40pm Nathan Pellissier vs Piotr Grudzien
10:20pm: Lei Li Na vs Kim Kun-Hea

Cycling Track: Men's 3000m individual pursuit

4:34pm: 🏅 Darren Hicks, C2 gold medal race
4:52pm: 🥉 David Nicholas, C3 bronze medal race

Wheelchair basketball: 3:45pm: Australia's men vs Iran
Wheelchair Rugby: 6:30pm: Australia vs France
Equestrian: Dressage individual 

5:00pm: 🏅 Victoria Davies, Grade II.
6:51pm: 🏅 Sharon Jarvis, Grade IV
9:31pm: 🏅 Amelia White, Grade V
Which Paralympian has impressed you so far?
Hi Mick,
Who's your favourite current Paralympian?

-Not Mick
I can't say I have a favourite. 
But I absolutely loved the interview Lakeisha Patterson gave after her gold medal swim.
Who has impressed you in the opening day and a half of the Paralympics? 
EQUESTRIAN: Sharon Javis scores 68.366 in the Grade IV individual dressage
Sharon looked very happy with her performance. 
She is the second of 12 riders, so we will have to wait and see how her score holds up. 
WHEELCHAIR RUGBY: Strong defence give Australia a half time lead
Ryley Batt is a man on a mission, providing the first half's two major defence plays for Australia.
In a must-win match, the Steelers lead 25-24 at half time. 
EQUESTRIAN: Sharon Javis is on now
TABLE TENNIS: Australia's Melissa Tapper has gone down to Brazil's Bruna Costa Alexandre 3-0
WHEELCHAIR RUGBY: Shae Graham has just scored the first try for an Australian female at the Paralympic Games
After not being used in the opening match, Shae Graham has made her Paralympics debut against France.
She has just scored her first try.
WHEELCHAIR RUGBY: Q1 France 13 leads Australia 12
It has been a back-and-forth battle. 
France had the final use of the ball in the first quarter and took the lead 13-12 in the last second. 
This is a must-win match for Australia. 
EQUESTRIAN: Victoria Davies misses out on qualification, finishes ninth
Davies' score was not enough to get through to the next round. 
The top eight go through, but Davies finished ninth.
TABLE TENNIS: Australia's Qian Yang goes down to Tien Shiau Wen 3-0
WHEELCHAIR RUGBY: Australia vs France is on now
This game is must-win for Australia. 
Who is ready for tonight's events?
Should be some great viewing this evening. 
The Steelers are on in 20 minutes against Japan. 
We have Aussies in three medal swims after 7:30pm AEST.
Two more dressage rides and several table tennis matches. 
I hope you are ready.
'I'm pumped': Joel Coughlin after his first Paralympic Games win
Joel Coughlin's win this afternoon is his first at the Paralympics.
After his win he said he was more calm, after making his debut yesterday. 
"I'm pumped, elated to get my first win at the Paralympic Games," he said.  
"Off the back of my game yesterday I played really well so I was actually a lot more calm going into today's game … less nervous and more confident, so I could go out there and play my game and get on top of him."
Thanks to Lauren Ryan for sending us through those quotes.
TABLE TENNIS: Qian Yang is about to begin her match with Tien Shiau Wen
Key Event
BASKETBALL: Australia wins its opening match of men's wheelchair basketball
Great win for the Rollers who were in control from the start. 
They have defeated Iran 81-39.
Brett Stibners was brilliant for Australia, with 21 points. 
TABLE TENNIS: Joel Couglan win
Our man Joel Couglan has defeated Alabi Olufemi.
Couglan only needed three games to win 11-9, 11-8,11-6.
EQUESTRIAN: Victoria Davies scores 65.618 in the Grade II individual dressage
Davies was the second rider of 12 to compete. 
We will have to wait and see how that score holds up. 
BASKETBALL: Australia leads Iran at the end of the third quarter 65-24
Key Event
CYCLING: David Nicholas wins bronze in the men's C3 3000m individual pursuit 
Bronze for David.
Great ride from the 29-year-old. 
Lead the race from start to finish. 
Posted , updated