Strade Bianche Women – Live coverage | Cyclingnews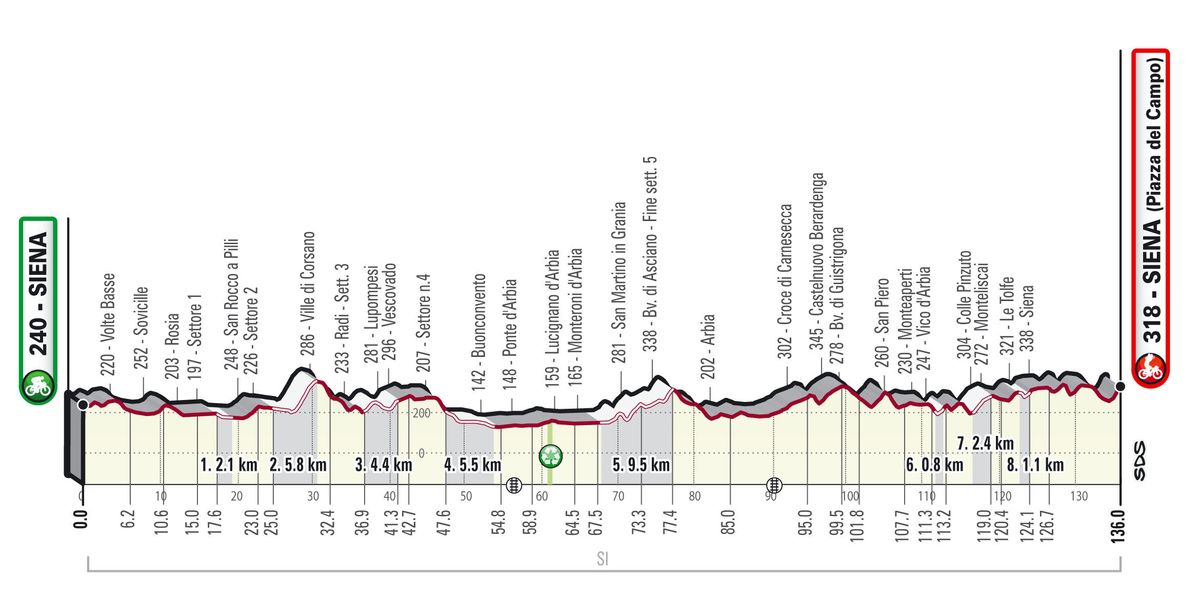 Read more at www.cyclingnews.com
Refresh
It's just seven riders off the front and they are: Jelena Erić (Movistar)  Mavi García (Ale), Alena Amialiusik (Canyon-SRAM), Brodie Chapman (FDJ), Sabrina Stultiens (Liv Racing) and Chantal van den Broek-Blaak (SD Worx), Ellen van Dijk (Trek-Segafredo).
A group of eight riders has now banded together and is making some space on the bunch. 
Attacks are still coming from the bunch but nothing is able to stick at this time. 
Gruppo compatto as the escapees are brought back into the bunch.
There are some small attacks coming off the peloton as riders try to bridge across to the two attackers. The bunch remains pretty big at this point with about 40 riders  still up there. 
Fisher-Black and Kopecky are still maintaining a small advantage over the peloton, which seems content to let them dangle out front for now. 
45km to go
A mechanical issue for Ashleigh Moolman-Pasio. She's quickly sorted and back on her way into the bunch, thankfully. 
We are also doing live coverage of the men's race, which has set off. You can follow all of the action here if you fancy following two races at the same time. 
The gap for our leading pair is dropping again and they have just 34 seconds on the bunch. The peloton, understandibly, doesn't want to give them much room. 
There's a long stretch now on paved roads before the next gravel sector. Again, it's another chance for a bit of respite but the pace is still quite high so the riders can't relax too much. The next sector is short and sweet at 0.8km. 
Nearly a miniute now for Kopecky and Fisher-Black at the front of procedings. They are working very well together at the moment. 
52km to go
The riders are off the gravel and back onto tarmac. The downhill section after the gravel is allowing some dropped riders to regain contact with the bunch.
Fisher-Black and Kopecky continue up front. The duo have about 44 seconds on the pack behind. 
Kopecky has had a great start to the season with victory at Le Samyn and fourth at Omloop Het Nieuwsblad. Today is not really a day for her, but she could surprise us if she's going really well. 
Lotte Kopecky has joined forces with Fisher-Black. Thankfully for my own confusion, which seems to be a bit of a problem this morning, Kopecky is in the colours of Belgian national champion. 
Apologies for getting my teams mixed up, Fisher-Black is of course riding for SD Worx. 
There is no respite and no sooner has Pirrone been caught do we have another attack. Niamh Fisher-Black has jumped off the front. 
It was inevitable really, but Pirrone has been caught by the front of this snake-like peloton. It was always going to be tough to stay out front at this point of the race. The pace for the opening two hours of racing has been 34.9kph.
63km to go
The high pace has really stretched the bunch out and there are plenty of riders struggling on the back now. 
The riders will be happy to know that once they finish the gravel sector, there is a lovely downhill sections. Unfortunately for the riders, they have a lot of uphill to come. 
Due to its length and many uphill sections, the San Martino in Grania gravel sector can prove decisive for many riders. You're unlikely to win the race here but you can lose it, as the old adage goes. It's tough and only the strongest will remain at the front on the other side.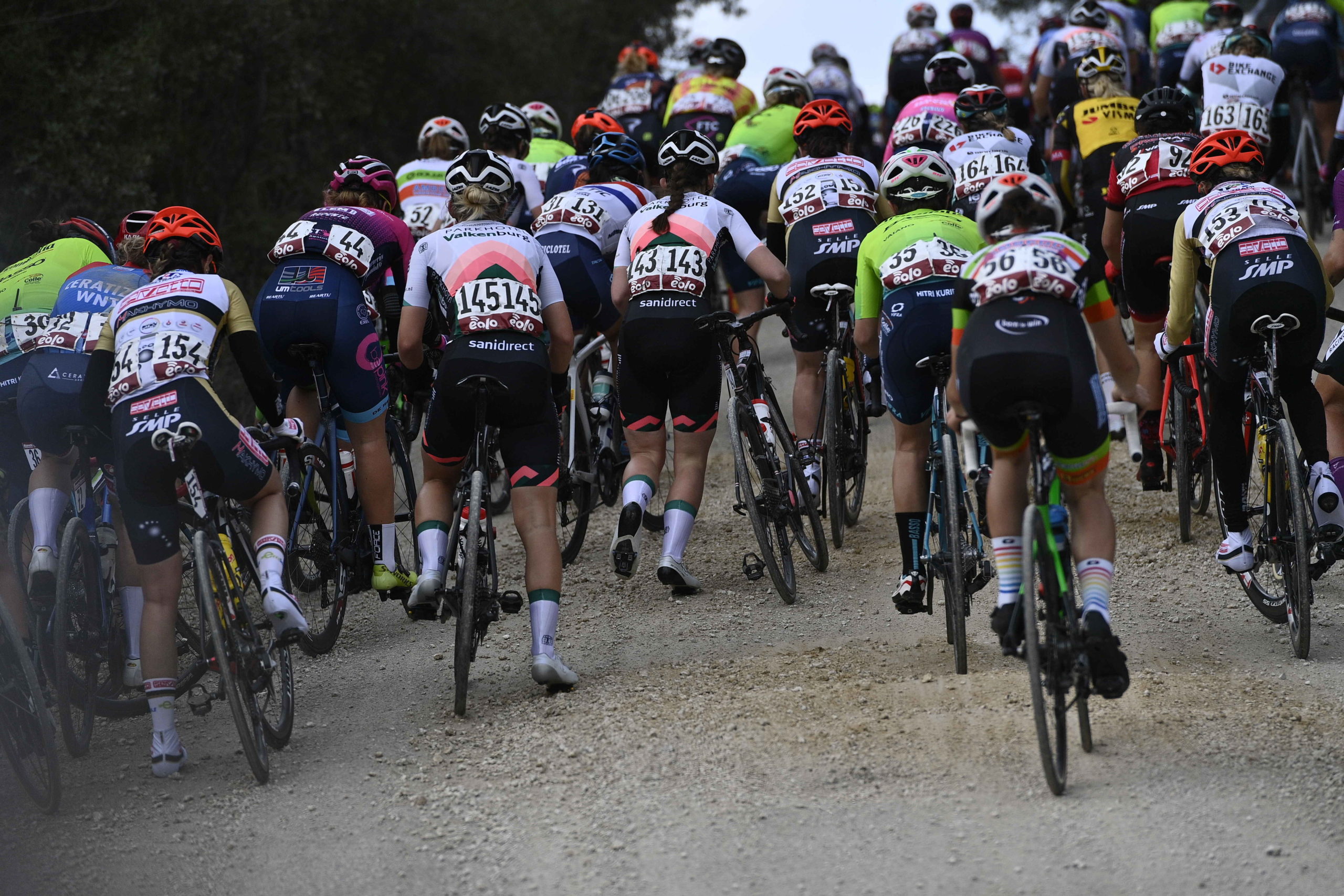 The hammer has dropped as the riders hit this fifth gravel sector. Pirrone now has just 30 seconds on the bunch, which has really ramped up the pace. It's going to be a big struggle for her to maintain this. 
A rider that I haven't mentioned today but we should be very wary of is Marianne Vos. She's making her debut for the new Jumbo-Visma women's team. It would be a fantastic start to the relationship if the Dutchwoman could come away with a victory. 
72km to go
Making the most of this lull, Pirrone has built up a lead of 1:10 on the peloton. I imagine that it will be quickly reduced when the riders hit the gravel again in the not too distant future. This next sector coming up is an opportunity to do some real damage to the bunch. 
The SD Worx squad are among those who have dropped off the back for a catch up with the team car. The Dutch team, whose kit looks frustratingly like the Liv Racing kit, is packed with potential winners. Anna van der Breggen, Ashleigh Moolman-Pasio and Chantal Blaak are among those that could win it for the formidable team. 
The easing up of the pace is giving riders a chance to drop back to their team car to collect refreshments and talk tactics. It's also an opportunity to catch a bit of a breather before we hit the gravel again. 
Some news on the abandon that was reported by race radio earlier. Georgia Williams is still in the race, so says her BikeExchange team. That is great news because she can have an impact on this race. 
The riders have left the fourth gravel sector and with it a little bit of respite. There's about 14km before they hit the fifth, which is the longest of the day at 9.9km. The pace in the bunch has slowed now that they are back on the tarmac and Pirrone is able to nudge her lead back out to 30 seconds. 
Cecilie Uttrup Ludwig is one of the favourites for the podium today, particularly with that difficult finale into Siena. This is what the effervescent Dane had to say about the race this morning. 
"I'm so excited, I mean, I love racing in Italy, and especially here in Tuscany. It's so beautiful and Strade Bianche is one of my favourite races, so I'm excited!  To win I need to have a good day on the bike, good legs, and I need to be a little bit lucky. But, yeah, I'm excited, I'll do my very best."
82km to go
Pirrone is struggling to keep a hold of her advantage on this high-speed gravel sector. She is now just 20 seconds ahead of the baying pack.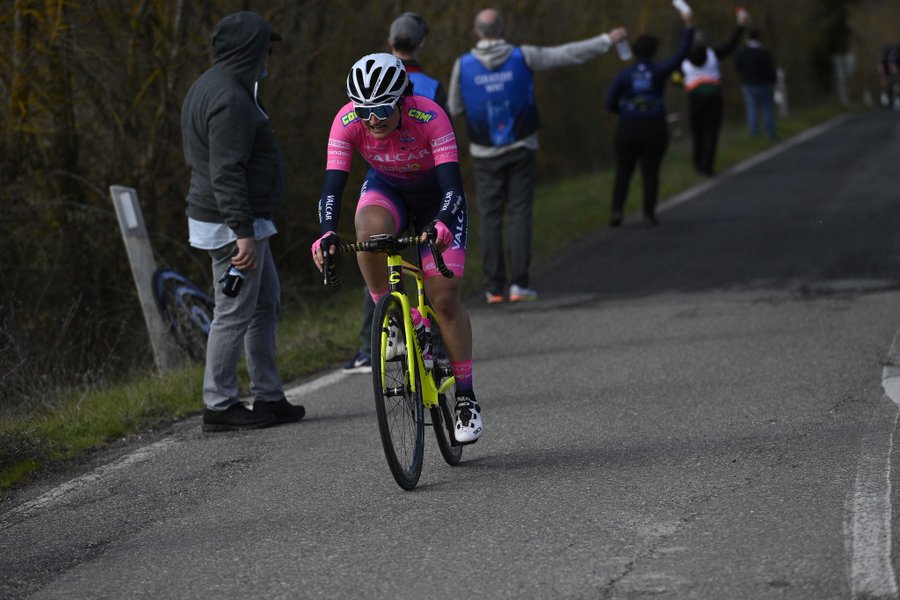 This fourth sector is pretty high-speed with some downhill sections. It also has some tricky corners that could cause trouble for some riders. 
The riders are onto the 5.5km fourth sector of gravel. Pirrone is making some very good ground at the moment and she has extended her lead to 47 seconds now. 
A mechanical problem for Maria Vittoria Sperotto and it spells the end of her race ambitions. Strade Bianche is a cruel race sometimes.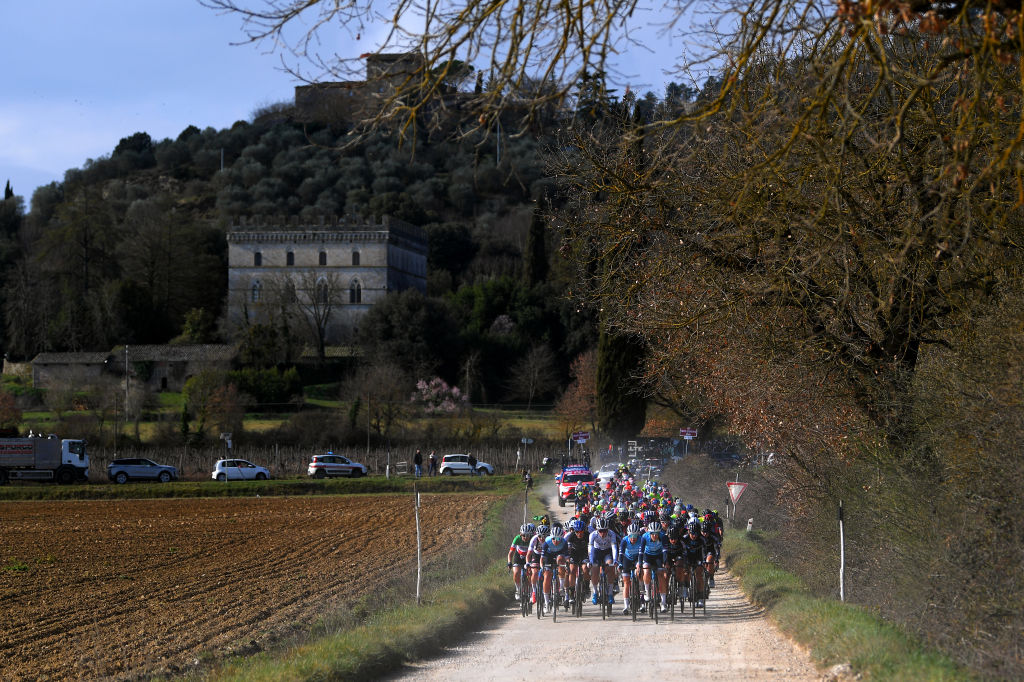 Following their various incidents, Banks, Mackaij and Fahlin are all back in the peloton. 
The peloton can no longer see Pirrone on the twisting third sector of gravel. Out of sight, out of mind. 
92km to go
Pirrone's lead is growing slightly. Her advantage is still pretty slim at 22 seconds. 
At the other end of the bunch, Asia Zontone has been forced to abandon. She is the second rider to call it a day early after Georgia Williams stepped off.
Onto the third sector of gravel and we have an attack from Elena Pirrone. She's got a small gap of about 15 seconds on the buch behind. 
104km to go
The second sector is done and dusted, pun intended, and the peloton is making its way to the third. It comes up in about five kilometres and is 4.4km long. Movistar and Jumbo-Visma are dominating the front of the bunch. 
The riders have been going for nearly an hour and we still don't have a significant breakaway. It is then no surprise that the riders have been going along at a decent average pace of about 37kph. 
Mackaij and Fahlin are chasing back onto the pack after their respective mishaps, both on new bikes. 
BikeExchange may have lost Georgia Williams but they still have Amanda Spratt, along with Lucy Kennedy and Ane Santestaban in their line-up today. This is what Spratt had to say ahead of the start.
"It's a huge race for us, it's such an iconic race, and I always love getting here early in the season and riding on the beautiful Tuscan roads, and we have a strong team here today so I'm excited to get out there. It's a really, really strong field. We saw last week in Nieuwsblad SD Worx in particular were very strong. But I think we need to have good numbers in the final after that long gravel sector I expect it will start to explode and breakaways go so we want to be there."
109km to go
Floortje Mackaij has had a crash on the second gravel sector and Emilia Fahlin has suffered a mechanical issue. 
Some unfortunate news from the BikeExchange team as Georgia Williams steps off the bike. It's unclear at the moment why she abandoned. 
We're following the women's race right now, but did you also know that there is a men's race today? It's nice that the women's races also allow men's races. Mountainbiker Ben Zwiehoff will be hoping his skills will help him today as he is riding in the men's race. Read more about it here.
The riders will have just over five kilometres between the end of the first and the beginning of the second gravel sector. The second sector is one of the longest of the day at 5.8km. 
🏁 115 km to go: Coming out of Sector 1, the peloton is still all together. We can see UCI World Champion🌈 @AnnavdBreggen of @teamsdworx sitting comfortably at the back, waiting for the real action to begin.#UCIWWT #StradeBiancheMarch 6, 2021
See more
Despite being the two-time defending champion, Van Vleuten says she is not focusing on a third consecutive title. This is what she had to say this morning to the official race website. 
"I can tell you I feel different. We've done one race, Nieuwsblad, so, sure, we need a little bit time to work super good together, but it was super good and I'm super excited to do this race with my new team. I'm not thinkg about winning three Strade Bianches in a row, my focus is to put out everything I have, have a really good race. Yes, it would be very beautiful , but it's not easy. It's also a lottery, you need to also to a lot of luck. and a lot of focus, and that's the objective today. If you say that women's cycling is between Anna van der Breggen and Annemiek van Vleuten, then we don't take into account how strong the field is in women's cycling. I think we have so much more natioanlties, We have so much more strong girls that put out a good performance, I think we have a really good battle."
The first gravel sector is 2.1km long and heads slightly downhill. It's long but one of the easier sectors that the riders will face today.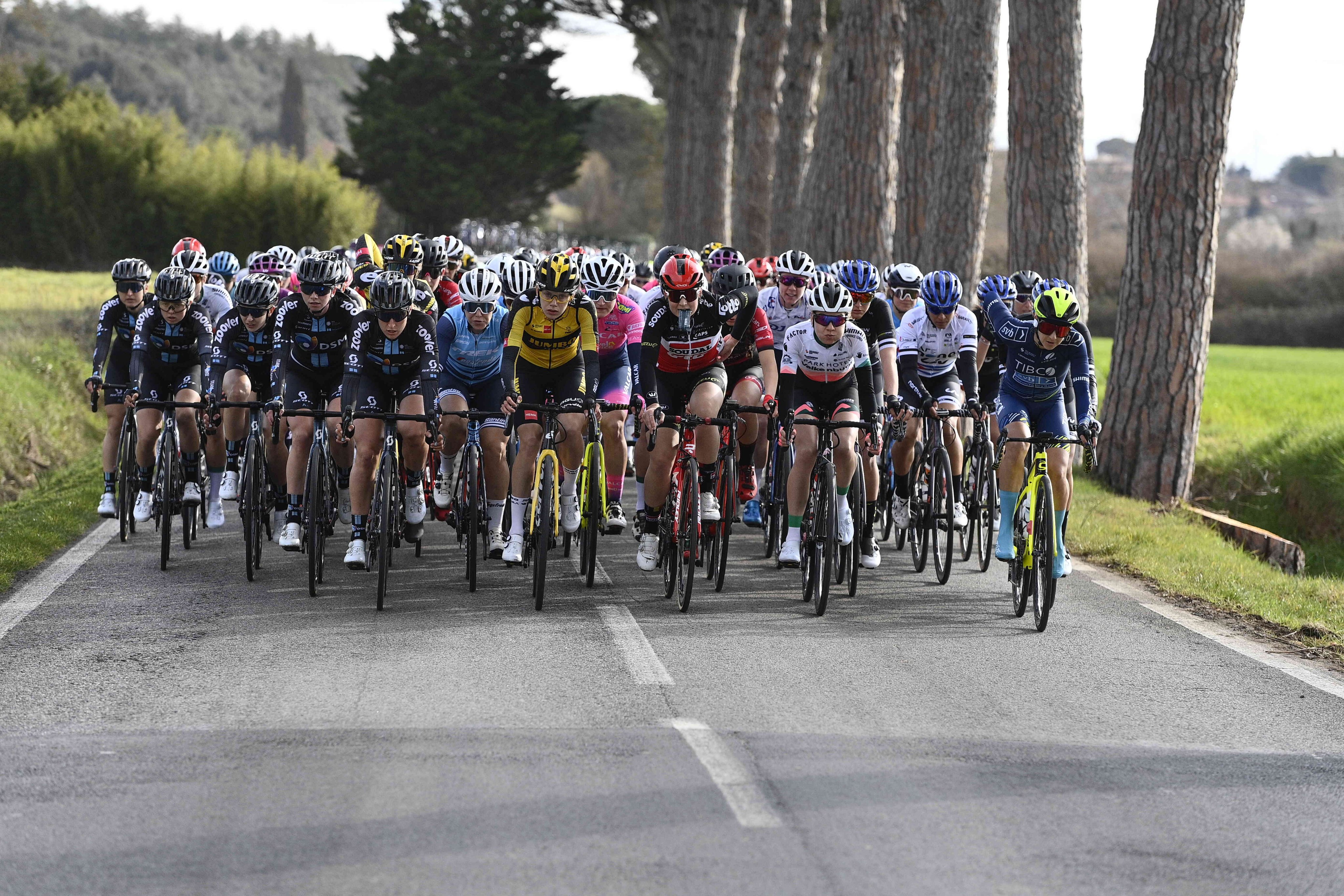 The women have about 31km of gravel roads to battle with today. The first of those comes up in the not too distant future, after 17km of racing. 
132km to go
The attacks have been relentless right from the start. Nobody has been able to build a significant gap just yet, though. 
Mavi Garcia made a big impression on the race last year, this is what she had to say to the race website ahead of the start. "It was almost my best result of last season, and now I remember it and I think it's not easy to do it. although, while you're doing it, you make the most of it. I always want to try [to win]. It's hard, it's very long, but I'll always try. There are no secret [to winning]. You need legs and a good head, and that's it."
An early mechanical problem for Maria Giulia Confalnieri but she is sorted and back on her way. 
Of course, Van Vleuten is not just the defending champion here. She is the two-time defending champion after winning the last two editions. In fact, she is the only rider to have won this race twice, let alone in consecutive years. 
The riders have passed through the short neutralized section within Siena and reached the city borders. Let the racing begin. 
The winner of today's race will also take home a hefty prize pot after a crowdfunding campaign was launched to give the women the same prize money as the men. After the campaign raised 22,000 euros, the women will actually be taking home more than the men. Read more about it here.
Sign on is complete in Siena and we can expect the riders to depart shortly. 
Buongiorno da Siena!#StradeBianche @eolo_it pic.twitter.com/6KU6ItIlLCMarch 6, 2021
See more
There was some talk that there might be some rain today but, at the moment, it is dry and a little bit warm. 
Annemiek van Vleuten is the defending champion today. Who can forget her stunning chase down of Mavi Garcia? Will she be able to repeat her success in Siena? She's had just one race so far this season, Omloop Het Nieuwsblad. 
Final countdown before the start of #StradeBianche pic.twitter.com/X7cQBpBBGTMarch 6, 2021
See more
We've had a few races this year so far, despite coronavirus doing its best to scupper the calendar, but this is the first Women's WorldTour event of the season. It should have been the Cadel Evans Road Race, but coronavirus… Here's hoping we see the race happening next year. 
Before the riders do set out from Siena, why not take a look through our preview here.
Good morning and welcome to live coverage of Strade Bianche women. The riders will be setting off on Italy's dusty white roads in a little under half an hour.