Saints' shuffling offensive line has remained a constant with these 2 coaches behind the scenes | Saints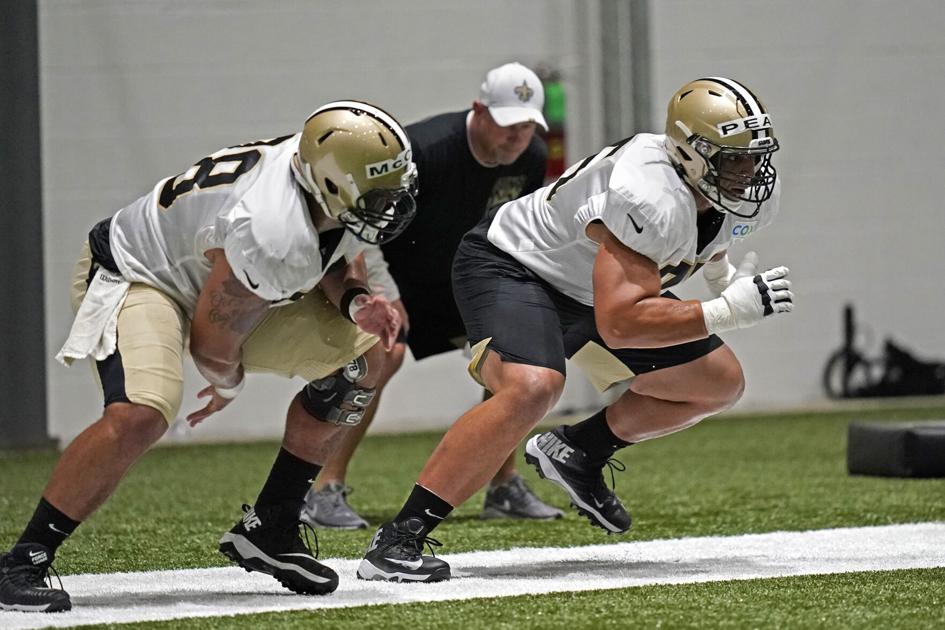 You could pick almost any week, but you might as well start with the last time the New Orleans Saints played football, when in pregame warmups the two guys standing in the end zone alone playing catch represented the entirety of the team's running back corps.
A positive COVID-19 test for star running back Alvin Kamara meant he would not play in the Saints' regular-season finale at Carolina. But it also meant that those who were close to him — essentially, the rest of the team's running backs, as well as their running backs coach — were also out.
New Orleans was down to practice-squad running back Tony Jones Jr., making his NFL debut, and journeyman Ty Montgomery, who'd been playing receiver and tallied his lone rushing attempt back in Week 1.
And still, the Saints went out and rushed for 156 yards. Montgomery became the third Saints ball carrier to top 100 yards in a single game in this season.
It was, to be sure, an excellent individual performance under difficult circumstances by the running backs pressed into duty. But it was also the latest example of a Saints offensive line that has consistently made lemonade out of the lemons this year has presented it.
"The objectives don't change up front," said Pro Bowl left tackle Terron Armstead. "Objective No. 1 is always to protect 9 (Drew Brees), and secondly, open lanes and create for the runners and our playmakers."
Only two of the Saints' five opening-day starters on the offensive line have appeared in every game this season.
Armstead missed two games while he was on the reserve/COVID list.
Pro Bowl left guard Andrus Peat missed three games and large chunks of two others with various injuries.
First-round pick Cesar Ruiz spent the final few weeks of training camp and the season opener on the sideline with an ankle injury. His replacement in the starting lineup, Nick Easton, missed four games because of two concussions and landed on injured reserve this week. New Orleans has used six different starting offensive line combinations this season.
And yet here the Saints are. As they head into Sunday's NFC wild-card playoff game against Chicago, the Saints have the NFL's No. 6 rush offense (141.6 yards per game) and No. 6 pressure rate allowed (17.3%). The Saints' offensive line has not been immune to momentary hiccups but has mostly contributed with strong performances despite a frequently rotating cast of characters.
"We recognize the value of our sixth, seventh, eighth offensive lineman is incredible," offensive line coach Dan Roushar said. "We see it every week with all the teams. We've been fortunate the last few years to be able to attract guys and plug them in. They played at a pretty high level when asked to do it."
And it might be past time to recognize the two guys behind the scenes, Roushar and assistant offensive line coach/run game coordinator Brendan Nugent, for their role in maintaining the cohesiveness along the line in spite of these challenges.
"They're two of the best O-line coaches in the game," center Erik McCoy said. "Whether we have injuries or COVID things going on, they've always gave us the next-man-up mentality and make sure that the next person in was ready to go, that they're prepared."
Head coach Sean Payton took a similar stance. The Saints have given the two offensive line coaches excellent depth to work with — but it's been up to them to make sure those players have been up to the task. A faulty offensive line can wreak havoc on an offensive game plan.
"Look, (the offensive line) can permeate throughout your whole team in a good or a bad way," Payton said. "And I think that it's helped us to be consistent. … (Roushar and Nugent) have done a good job relative to the teaching and preparing for different scenarios."
Roushar has been with the Saints since 2013, and Nugent since 2015. Before arriving to the Saints, Roushar had spent nearly three decades coaching college football. Nugent's only pro experience before he got to New Orleans was as a quality control coach on Marc Trestman's Chicago Bears staff.
Roushar and Nugent first got to know each other working with the Saints tight ends in 2015, and they've worked closely together since Roushar took over the offensive line coach duties for the 2016 season. Like anybody who works together for a long time, Roushar said they've grown together and learned how to complement each other. He frequently speaks glowingly of his coaching counterpart.
"He's incredibly valuable," Roushar said of Nugent. "He's a super-talented coach. He's extremely smart, he's a great communicator and he's got a real vision for how we want to do it."
McCoy called his coaches' styles "opposite, but similar at the same time." Armstead, who has developed into one of the NFL's premier left tackles under their tutelage, had a more specific take, describing Roushar as a methodical coach who will gladly spend hours in meeting rooms, repeating things until they're ingrained, while Nugent takes on a larger role on the field.
The result of that, Armstead said, is a Saints offensive line whose strength is its depth, and its depth is a byproduct of coaching and development.
"The way they are extremely detailed and know what they want to see from us, just trying to make sure we go put our best foot forward every week, not never taking the game for granted or rep for granted," Armstead said. "That is hard to do over a course of the season. Having two coaches that stay on you, that's extremely beneficial for us."
Every year, the Saints offensive line expects to meet an exacting set of standards. Though every team has dealt with the challenges of this strange year, meeting that expectation this season has not been without its obstacles for Roushar, Nugent and the Saints offensive line.
There was no well-defined offseason to hone fundamentals, no early work to get players into the building and refine technique.
"Yet the (offensive line) room is a talented room," Roushar said. "It's a room that gets along so well and they share knowledge to such a high level, that really, at the end of the day, we expect the performance to remain at a high level and we have the consistency, and we're disappointed when it's not."