Lawrence, Clemson plow past Virginia Tech to clinch ACC Championship berth | Clemson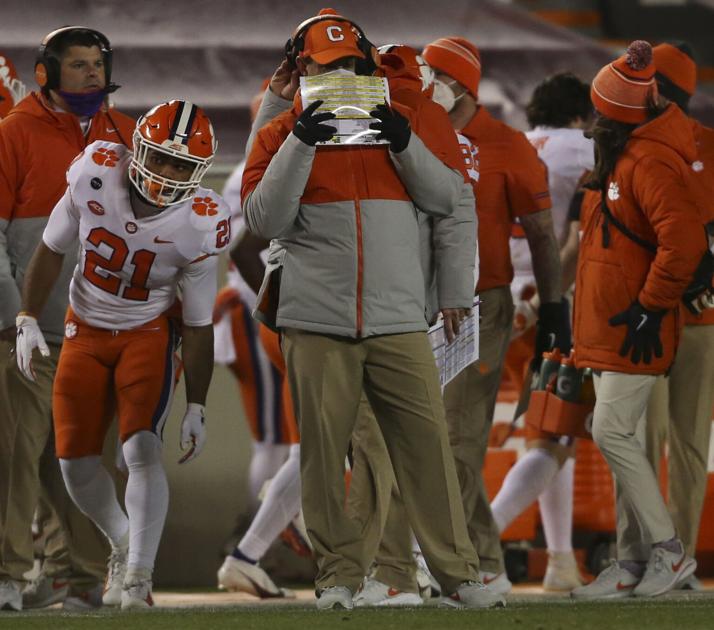 Read more at www.postandcourier.com
BLACKSBURG, Va. — Trevor Lawrence on Friday afternoon stepped on an airplane platform wearing a long, tan coat with a matching scarf slung around his neck. 
Clemson was about to jet off to Virginia Tech for what is likely to be the final regular season game of the star quarterback's college career.
"Hopefully it snows," he said, his mask not containing the excitement in his voice.
Lawrence didn't get his wish; Lane Stadium was frigid — the kickoff temperature was 37 degrees, the fifth-coldest in Clemson history — but not wet. The junior did, though, have to plow through a Virginia Tech team that put up more of a fight than expected.
The Tigers, No. 3 in the College Football Playoff rankings, came away with a 45-10 win. It wasn't until about midway through the third quarter that Clemson finally broke away in Blacksburg, but the slog was worth it: The Tigers with the win clinched a spot in the ACC Championship game scheduled for Dec. 19 against No. 2 Notre Dame.
It will be the Tigers' sixth straight appearance in the conference title game, an ACC record. 
Lawrence, one possession after throwing an end zone interception, lowered his shoulder with about five minutes left in the third quarter and bulldozed into the end zone for a 7-yard touchdown to give Clemson its first two-score lead of the contest.
Clemson, which was favored to win by 22 points, entered halftime with a 16-10 lead. The Hokies' strategy was to milk the clock, and in the first half the Tigers possessed the ball for just 10:07.
The tide turned after Lawrence's rushing touchdown.
On a night that Clemson's official Twitter account transformed into a vessel for Lawrence's Heisman Trophy campaign — it tagged numerous tweets with #Trevor4Heisman — the junior broke the program record for most wins for a starting quarterback (33). 
Lawrence afterward directed praise elsewhere when asked about the mark: "It's really proves more the teams I've been apart of. Obviously I've had a part in that, but have played with some great players, some great coaches. Grateful to be a part of Clemson."
What went right
Clemson entered the contest averaging 3.8 yards per rush, with the offensive line attracting criticism all season.
Something clicked Saturday.
The Tigers averaged 7.9 yards per carry, with the stellar evening punctuated by senior running back Darien Rencher's 50-yard touchdown scamper late in the game. 
Lawrence, who finished 12-of-22 passing for 195 yards with one touchdown and the interception, had two rushing scores of his own. And junior running back Lyn-J Dixon — Etienne's primary backup in 2019 who hadn't found the end zone all season until last week — also scored. 
The Tigers finished with 238 yards on the ground despite having possessed the ball for just 22 minutes and 52 plays. 
"A very short game for us offensively but really proud of how the guys stay focused," Swinney said. 
What went wrong
Middle linebacker James Skalski, who missed more than a month with a groin injury before returning in last week's 52-17 win over Pittsburgh, started the game but was pulled early. Coach Dabo Swinney said Skalski was feeling sore and was pulled as a "precautionary measure."
Jake Venables' injury was more serious. Skalski's backup suffered a broken arm during the game, Swinney said. 
Turning point
Lawrence's third-quarter rushing score shifted momentum for good. 
A few minutes later cornerback Derion Kendrick recovered a fumble for a 66-yard scoop and score.
And before Rencher's touchdown Lawrence tossed a 65-yard score to wide receiver Cornell Powell, which marked the 700th completion of his career. He joined Tajh Boyd (901), Charlie Whitehurst (817) and Deshaun Watson (814) as the only Clemson signal callers to achieve such a milestone. 
Looking ahead
Clemson is off next weekend before challenging Notre Dame in the ACC Championship game on Dec. 19 in Charlotte. The Tigers will look to win their sixth straight conference title and clinch a spot in the CFP. It will be a rematch of the team's Nov. 7 bout in South Bend, Ind., which the Fighting Irish won, 47-40, in double overtime. 
"It should be an unbelievable matchup," coach Dabo Swinney said. 
Follow Joshua Needelman on Twitter at @joshneedelman.