Jets encouraged by Zach Wilson's desire to master offense following first minicamp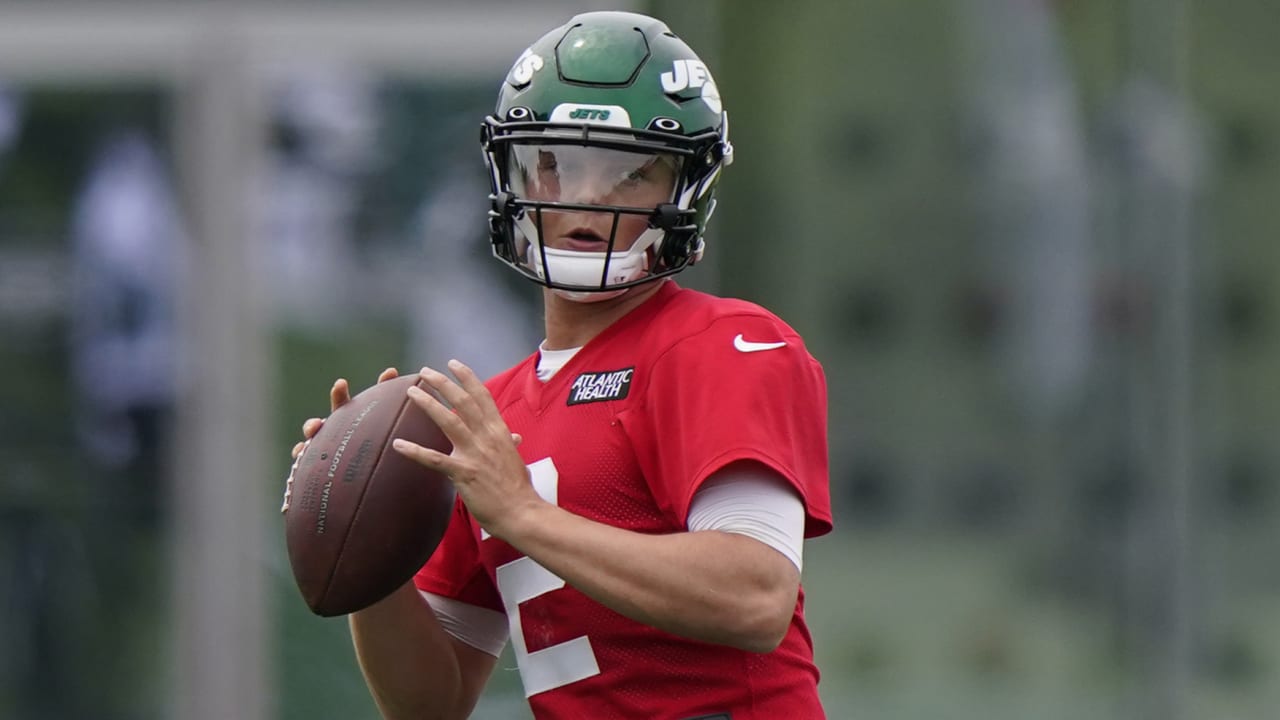 Becoming an NFL quarterback isn't as simple as being drafted and putting on a helmet.
Zach Wilson has learned this valuable lesson in his first few weeks of work as a New York Jet. It's not an easy task, of course, but Wilson isn't shying from the challenge. He's also not keeping the difficulty of it hidden.
"It's hard to say exactly how you did," Wilson said when asked about his performance following the conclusion of Jets minicamp, via the Associated Press. "Personally, in my eyes, I feel I can improve every single day. I feel like I'm learning something every single day. Even on the good days, it's still frustrating and it's just because it's like a foreign language. Every single day it's the same plays, but you're getting different reps, different looks at it, different defensive coverages, whatever it is."
The sheer amount of information might be overwhelming to most, but as Wilson is quickly realizing, the reps in June are even more important mentally than physically. Wilson knows how to throw a football — quite well, in fact — however, he still needs to learn how to diagnose every possible coverage he might face, and execute accordingly at the premier speed of an NFL game.
The Jets aren't giving a single thought to the use of mental training wheels, throwing Wilson into the controlled burn that is minicamp. It's not easy, but is essential if New York wants the No. 2 overall pick to blossom into the franchise quarterback they never quite saw in Sam Darnold.
It's painful to swing and miss once under center. It's not an option the second time around.
"It's been a learning curve for him," offensive coordinator Mike LaFleur said. "We've thrown a lot at him."
With no kid gloves available, Wilson has impressed his coaches with how he's handled their manufactured adversity. He hasn't always had the security of a play script, occasionally being directed to lead the offense through a period in which he's in charge of calling plays.
Wilson hasn't even had the playbook for two months. Yet, as LaFleur said, he's done a "really good job" in these instances thanks to investing plenty of time into digesting the offense.
It's the result of a character trait the Jets have identified in Wilson, one that has them convinced they made the right decision in April.
"Zach loves ball, that's one thing that I've learned," head coach Robert Saleh said. "He's unflappable in the sense that he doesn't care whether something went good or bad, he wants to know why it went good or bad. He wants to learn from it. He is wired exactly the way you want all players to be wired.
"So now it's just a matter of him getting as many reps as possible, to go into as many situations as possible, to see how much he can get better."
Wilson will get plenty of reps this summer in Jets training camp. The hope is by the time September arrives, he'll be mentally equipped to handle the responsibility of a starting NFL quarterback.
If anything, Wilson is certainly willing to put in the work.