Iowa gets back on track with win over Rutgers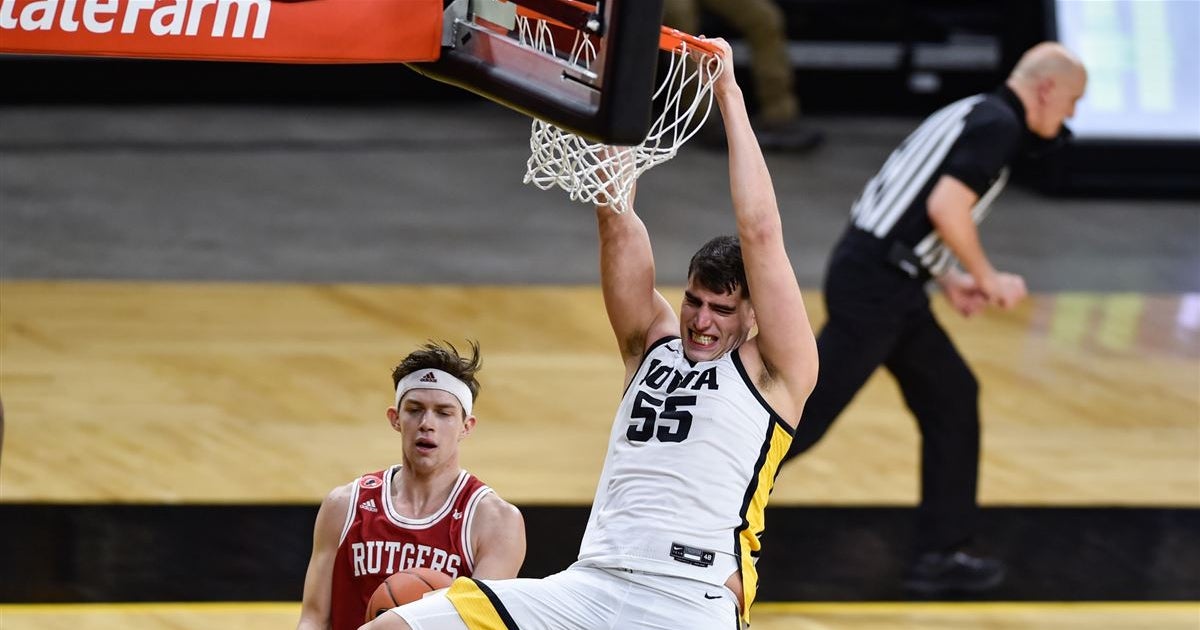 Iowa got back on track Wednesday night as it took down No. 25 Rutgers, 79-66.
The Hawkeyes are now 14-6 overall, and 8-5 in Big Ten play after previously losing four of their last five games.
Let's take a look at the numbers from Iowa's win.
—
26 – points for Iowa's Joe Wieskamp. The Muscatine native played arguably his best game of the season as his 26 points were a game-high. Wieskamp was 9-of-14 from the field and 5-of-7 from beyond the arc. Wieskamp also grabbed 10 rebounds to complete the double-double. Wieskamp looked smooth in the win and got into a groove early in the first half. A confident Wieskamp is a huge plus for Iowa, and he sure looked like the best player on the floor against Rutgers.
17 – minutes of action for Iowa guard CJ Fredrick. Though Fredrick didn't score any points, his impact was felt on the floor as he had three second-half assists to Garza. Fredrick certainly looked a step slow, and that's as expected with the nagging injury that he has had. Fredrick didn't get a lot of lift on his jump shots, which led to a straight line arc rather than getting more arc. Even with the injury, his presence helps spread the floor for Iowa, and he's still a willing defender. He may not be as quick or as active as he was before the injury, but he still finds ways to impact the game, and that's all you can ask for. It'll be interesting to see how Fredrick continues to be a factor for Iowa. Iowa head coach Fran McCaffery has said previously that Fredrick will be day-to-day for likely the rest of the season and that this injury won't go away.
12 – minutes played for Rutgers center Myles Johnson. As we highlighted before the game, Johnson had been on a tear during the Scarlet Knights' four-game winning streak as he was averaging 10.5 points and 10 rebounds per contest. Iowa could get Johnson to commit two quick fouls early in the first half, and that left him on the bench. Taking Johnson out of the game opened up the paint at times and made life easier for Luka Garza and the rest of the Iowa team looking to get shots in the paint.
21 – percent is what Rutgers shot from beyond the arc. The Scarlet Knights were 6-of-28 from deep. I thought Iowa did a good job of getting out to the shooters and closing out hard. Those disruptive closeouts with a high hand lead to tougher shots, and Rutgers did not get a ton of clean looks.
5 – wins for Iowa against ranked opponents. That is the most in college basketball, according to the Iowa Twitter account.
Btw, haters.

5?? wins over ranked opponents is the most of any team in the country this season. https://t.co/nVJnhEx6RV


— Iowa Basketball (@IowaHoops) February 11, 2021
Get 30% off an annual membership! Take advantage now and be the first to know everything going on regarding Iowa football, basketball, and recruiting! Plus, interact with other passionate Hawkeye fans! Click Here!