Game 6 preview: No. 6 Illinois at Missouri; 7 p.m. Saturday | Sports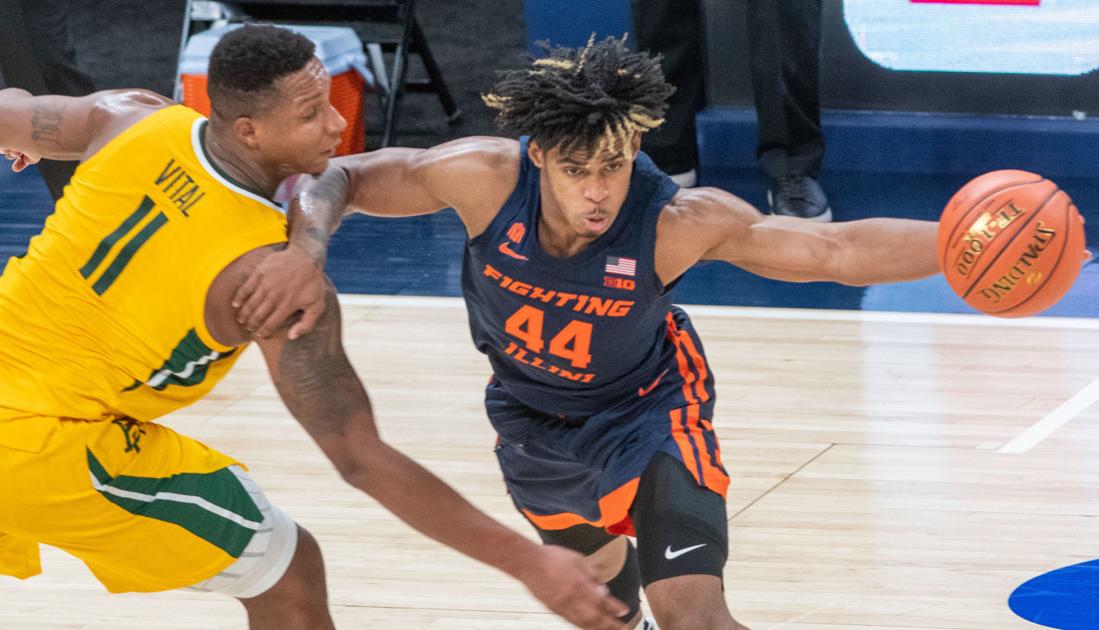 Read more at www.news-gazette.com
LINEUPS
No. 6 Illinois (4-1)
Starters
P Name Yr. Ht. PPG Hometown
G Trent Frazier Sr. 6-2 9.2 Wellington, Fla.
G Adam Miller Fr. 6-3 13.4 Peoria
G Ayo Dosunmu Jr. 6-5 22.6 Chicago
G Da'Monte Williams Sr. 6-3 7.6 Peoria
C Kofi Cockburn So. 7-0 13.0 Kingston, Jamaica
FYI: Just 67 freshmen are averaging more than 10 points, and only eight teams that have played more than one game have a pair of freshmen on that list. Illinois is part of that group with Miller and Andre Curbelo. Also on the list: Arizona State (Josh Christopher and Marcus Bagley), Kentucky (BJ Boston and Terrence Clark), Purdue (Zach Edey and Brandon Newman), Louisville (Dre Davis and Jae'lyn Withers), North Carolina (RJ Davis and Caleb Love), Duke (DJ Steward and Jalen Johnson) and Northern Kentucky (Trey Robinson and Marques Warrick).
Off the bench
P Name Yr. Ht. PPG Hometown
G Andre Curbelo Fr. 6-1 10.4 Vega Baja, Puerto Rico
F Giorgi Bezhanishvili Jr. 6-9 8.2 Rustavi, Georgia
F Coleman Hawkins Fr. 6-10 1.0 Sacramento, Calif.
Missouri (4-0)
Starters
P Name Yr. Ht. PPG Hometown
G Xavier Pinson Jr. 6-2 13.5 Chicago
G Dru Smith R-Sr. 6-3 13.8 Evansville, Ind.
G Mark Smith Sr. 6-5 17.3 Edwardsville
F Kobe Brown So. 6-7 6.5 Huntsville, Ala.
F Jeremiah Tilmon Sr. 6-10 8.5 East St. Louis
FYI: Mark Smith is undefeated in Braggin' Rights. The 2017 News-Gazette All-State Player of the Year had 11 points in an Illinois win in 2017, just five in a Missouri win in 2018 and went scoreless for the Tigers in 2019.
Off the bench
P Name Yr. Ht. PPG Hometown
G Javon Pickett Jr. 6-5 8.5 Belleville
F Mitchell Smith R-Sr. 6-10 5.0 Van Buren, Ark.
G Drew Buggs Gr. 6-3 0.0 Long Beach, Calif.
DETAILS
Site: Mizzou Arena (15,061), Columbia, Mo.
Radio: Brian Barnhart (play-by-play) and former Illini Deon Thomas (analysis) will have the call on the Illini Sports Network on WDWS 1400-AM, WHMS 97.5-FM, WDAN-1490-AM, WDNL 102.1-FM and WPXN 104.9-FM.
TV: Chuckie Kempf (play-by-play) and Jon Sundvold (analysis) will have the call on ESPNU.
Series history: Illinois leads 32-18.
Last meeting: Missouri won 63-56 on Dec. 21, 2019, in St. Louis.
FYI: The last Braggin' Rights game to be held on a campus site was in 1979 in Champaign, with Missouri winning 67-66 in overtime at the Assembly Hall despite Illini double-doubles from both Eddie Johnson (22 points, 16 rebounds) and Mark Smith (14 points, 11 rebounds). The last game in Columbia, Mo., came a year prior, with Illinois claiming a 69-57 victory at the Hearnes Center.
SCOTT RICHEY'S STORYLINES
Neutral site future
Ten of the first 11 games in the Illinois-Missouri series were played on campus sites. The only outlier before the series moved to St. Louis full-time in 1980 was a 1946 game in Kansas City, Mo. The ongoing COVID-19 pandemic meant this year's Braggin' Rights game was shifted from St. Louis back to a campus site, with Missouri winning the coin flip the two teams conducted virtually last month. When all is safe again? Back to St. Louis the Illini and Tigers will go. Illinois coach Brad Underwood doesn't find a return game in 2021. "One-off year," Underwood said. "That's what we felt was the safest way to play this. They won the coin toss, so we're going there."
Shot mechanics
Da'Monte Williams made nine of his last 17 three-pointers to close out the 2019-20 season. The Illinois guard has since made nine of his first 13 three-pointers to start the 2020-21 season. The tipping point to shooting 60 percent from deep on his last 30 attempts? A minor shift in Williams' shot mechanics with an emphasis on keeping his right elbow high. "I just come in every day and get regular game shots in — just like I did in previous years," Williams said. "Just stepping up and knocking it down really. I try to get the same shot every shot."
Push the pace
Missouri hasn't gone full-fledged Mississippi Valley State (the most uptempo team in the country), but the Tigers are certainly getting more bang for their buck when it comes to number of possessions per game compared to Cuonzo Martin's first three seasons as coach. Missouri has put the ball in point guard Xavier Pinson's hands and set him free. "Pinson is a blur," Underwood said of the Chicago Simeon product. "He's extremely fast, and he's pushing. If you don't get him stopped, he's getting into the paint. … They're playing faster, and I think that's one of the results of moving Pinson full-time to that point guard spot."
Prediction | No. 6 Illinois 84, Missouri 76
The way Illinois outgunned Duke in a statement victory Tuesday night in Durham, N.C., perhaps set the tone for the rest of the this season. The Illini's desire to push the tempo and crush teams in transition will, in fact, be aided by Missouri playing also utilizing a more uptempo style. Music to Ayo Dosunmu and Andre Curbelo's ears. (N-G prediction record — 4-1).