Commit! Texas Tech adds Troy receiver transfer Kaylon Geiger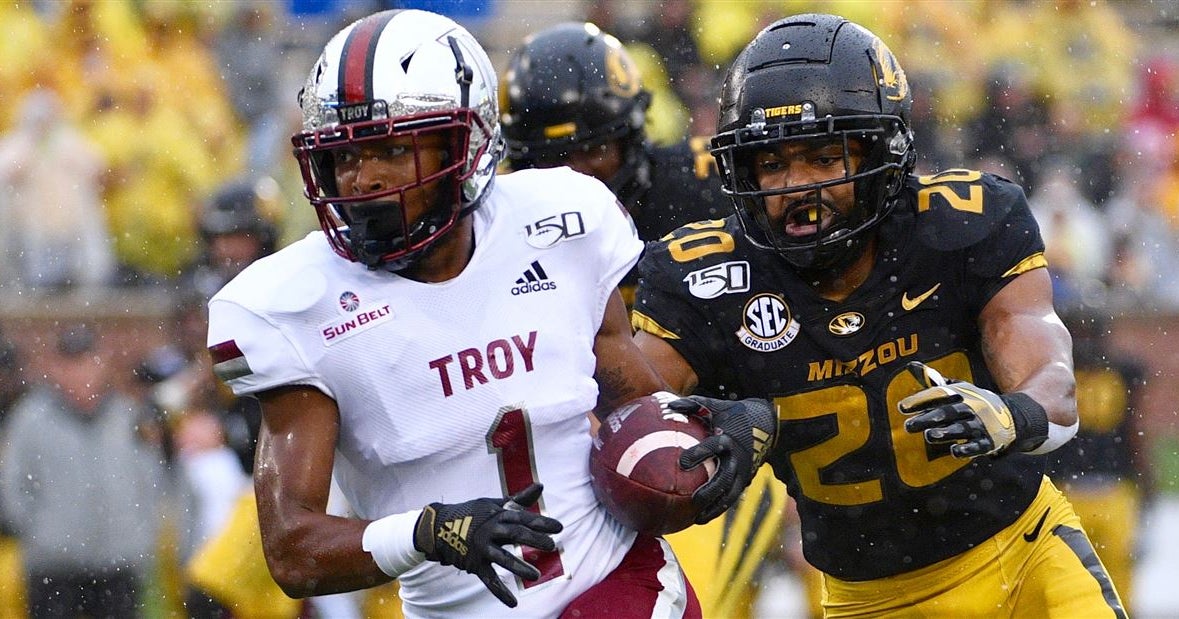 Texas Tech bolstered both its receiver corps and special teams with the addition of Troy transfer Kaylon Geiger, who announced Saturday that he is going to be a Red Raider for his final season of college ball. The 5-foot-10, 170-pound inside receiver hauled in 141 passes for 1,652 yards and eight touchdowns in his two seasons at Troy, including 64 catches for 752 yards and three scores in 2020. He also returned 23 kickoffs for 545 yards (23.7-yard average) with a long of 61 in his time with the Trojans.
The former Sun Belt Newcomer of the Year and first team all-conference performer went to high school at Fort Worth Paschal before starring at Navarro College for two seasons where he tallied 100 receptions for 1,451 yards. Geiger heard from the likes of Hawaii, Nebraska, Mississippi State, Penn State and TCU since entering the NCAA transfer portal on Tuesday, but the call to return home to the Lone Star State plus opportunities at Texas Tech ended up sealing the deal.
"Being closer to my family is big," Geiger told al.com. "And for me to go back to Texas and my dad actually being able to watch me play more, that's a big thing for me too. But I also want to develop as a player. I want to the best I can be and have the best opportunity to live out my dream."
Geiger is the eighth scholarship transfer the Red Raiders have landed this offseason joining quarterback Tyler Shough, who transferred from Oregon and ranks 53rd on 247Sports' top 50 transfer list, Marquis Waters, a Duke grad transfer safety who checks in at 57th on 247's rankings, TJ Storment, a TCU grad transfer offensive tackle who was a second-team All-Big 12 selection last season, NC State cornerback transfer Mailk Dunlap, who has three seasons of eligibility remaining, Jesiah Pierre, a Florida linebacker transfer with four years left to play, Rayshad Williams, a UCLA cornerback transfer with three years to play and Reggie Pearson, a safety transfer from Wisconsin who also still has three seasons of eligibility remaining.
"As we continue to build this roster we're kind of doing it as a mix of high school signees mostly from the state of Texas, but we're also adding to our roster transfers, grad transfers and junior college transfers," Matt Wells said.
The NCAA transfer portal was enacted on Oct. 15, 2018, providing athletes a path to explore their options. Players do not need to ask permission from their coaching staff in order to transfer. They just need to request that compliance enter their name. It normally takes 1-2 days for a player to appear following their request.
Schools are free to contact a player without restriction once their name appears in the portal. While a player entering their name in the transfer portal means they intend to explore their options, it does not necessarily mean they will leave. A player is free to withdraw his name at any time. However, schools are under no obligation to keep a player on scholarship once they enter the portal.